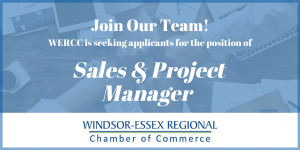 WHO WE ARE:
The Windsor-Essex Regional Chamber of Commerce is the voice of our business community. We are a membership-based, non-profit organization that fosters a healthy, engaged, and sustainable business environment and economy in Windsor and Essex County. The Windsor-Essex Regional Chamber of Commerce is the key connector and advocate for the long-term business success of our Members and our region.
THE OPPORTUNITY: SALES & PROJECT MANAGER
The Sales & Project Manager will oversee two new business-related initiatives for the Windsor-Essex Regional Chamber of Commerce in conjunction with national and provincial partners and sponsors.
You will identify, contact, coordinate and enlist businesses to participate in both new programs.
Additionally, you will coordinate communication and marketing materials to ensure eligible businesses are aware of the programs.
You will also represent the Windsor-Essex Regional Chamber of Commerce and the two new initiatives in the community, network with prospective participants, plan information sessions and recruit new Chamber Members.
SKILLS AND ABILITIES: 
Demonstrated sales experience and success
Knowledge of the manufacturing sector, as well as an understanding of the wants and concerns of businesses, manufacturers and exporters
Knowledge of how industry associations and non-profits operate
Strong organizational skills with proven project management and program recruitment abilities
Ability to take initiative and work both within a team and independently
Superb attention to detail
Excellent written and verbal communication skills
Ability to effectively present information in one-on-one and small group situations, as well as to the general public and other employees of the organization
Proven leadership skills
Strong time management skills
Some understanding of the operation and structure of government, relevant trade organizations and funding agencies
EDUCATION AND EXPERIENCE:
Completion of a post-secondary program, preferably in business
Two to three years of experience in project management
Experience related to manufacturing, trade, productivity, and exporting considered an asset
Basic understanding of financial acumen
Previous work experience with government funded projects
Proficiency in Microsoft Office products (Word, Excel, PowerPoint, Outlook)
Familiar with social media platforms
Experience with event planning and coordinative activities
Fluent bilingualism in French and English (spoken & written) an asset
COMPENSATION:
The Sales & Project Manager position offers a highly competitive compensation package, commensurate with experience, including salary and commission.  This is a 12-month contract, with potential for renewal.
Interested applicants may forward their cover letter and resume to Wendy Bretz at wbretz@windsoressexchamber.org by 4:00pm Friday January 17, 2020.