ATHENA Scholarship Program and Luncheon
The ATHENA Scholarship Program was created in 1999 for full-time post-secondary students between the ages of 18 and 30 years old.
As well as having excellent academic achievement, recipients must be interested in increasing leadership opportunities for women and enhancing the quality of life in our community.
The program is supported by generous donations from private citizens, corporations, professions, academic institutions and community organizations.
In 2004 the ATHENA Scholarship Fund (Windsor) was established as a registered charity. The Fund is currently invested and its assets managed by the WindsorEssex Community Foundation.
Since 2001 the ATHENA Committee has hosted an ATHENA Scholarship Luncheon to honour the ATHENA Scholarship recipients, to acknowledge its generous sponsors and to feature a speaker of influence who exemplifies its values.
2020 ATHENA Scholarship Recipients
The ATHENA Scholarship Fund (Windsor) and the Windsor-Essex Regional Chamber of Commerce are pleased to announce that this year's ATHENA Scholarship recipients are:
Tara Chan - Faculty of Law, University of Windsor
Paige Coyne - University of Windsor
Celina DeBiasio - University of Windsor
Sierra Scott-Kilgo - St. Clair College
Selection criteria for the ATHENA Scholarship Program includes academic excellence; enhancement of the quality of life in the community; mentoring others; leadership and team building; and diversity.  The scholarships are valued at $5,000 each.  The ATHENA Scholarship Program is a "Made in Canada" initiative.  New this year is an additional $5,000 scholarship in honour of Loretta Stoyka, President of the ATHENA Scholarship Fund (Windsor) for a student of the Faculty of Law, University of Windsor.
Out of an abundance of caution, as the COVID-19 pandemic remains an ongoing safety concern in our community, the 2020 ATHENA Scholarship Luncheon will be postponed and held in combination with the 2021 luncheon on Thursday, November 18, 2021 at St. Clair College Centre for the Arts. The 2020 recipients, along with their families and guests, will be invited to join and be recognized at the 2021 luncheon, while they will be provided with their scholarship cheques as scheduled this year. University of Windsor Chancellor, Mary Jo Haddad is confirmed as the 2020/2021 guest speaker.
For more information on the scholarship recipients and the ATHENA Scholarship program, click here for the September 16, 2020 media release.
2019 ATHENA Scholarship Recipients:
Jessica Glazewski – St. Clair College
Katherine e. Hirsch – University of Windsor
Kiara Clement – St. Clair College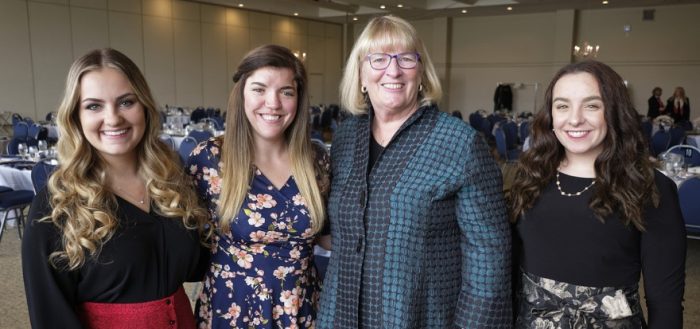 2018 ATHENA Scholarship Recipients:
Syndey Chapados – University of Windsor
Holly Nicholson – St. Clair College
Erin Dufour- University of Windsor
The ATHENA® Leadership Award
ATHENA Leadership Award Nominees and Recipients are leaders in their profession, well-connected in their community, hold leadership positions in service and professional organizations and often lend their time and talent to corporate and foundation boards. Perhaps most importantly, they are great mentors who 'lift as they climb', extending a hand to their peers and the next generation of leaders alike. ATHENA Leadership Award Recipients foster leadership qualities in others.
Windsor became the first Canadian city to present the ATHENA Award in 1996. The award honours women and men who are recognized for business and professional excellence, for community service, for mentoring and providing a role model to encourage women to achieve their leadership potential. The ATHENA Award is presented each year at the Chamber's Business Excellence Awards Gala.
The 30th Anniversary Business Excellence Awards presented by Windsor Star will take place on Thursday, May 20, 2021.
2020-2021 Business Excellence ATHENA Leadership Award Recipient: Marlene Corey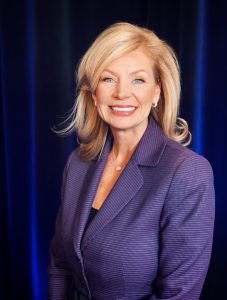 2019 Business Excellence ATHENA Award Recipient: Sherrilynn Colley-Vegh