The BIGGEST Support Local campaign in the Windsor-Essex Regional Chamber's 145-year history.
Support Local is a multi-faceted campaign designed to assist local businesses, retailers, restaurants and professional services from October 2021 to the end of January 2022.  This vital campaign comes at a time when businesses are still being hard hit by the COVID-19 pandemic and encompasses the key Holiday Season.

Support Local Unboxing Contest
We are proud to share a new Support Local partnership with 519 Culture to present a special unboxing campaign, showcasing locally made and sold items.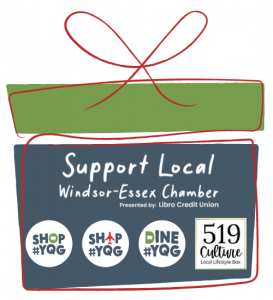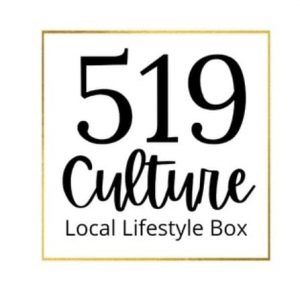 On December 2nd, AM800's Dan MacDonald shared his Support Local unboxing live on Facebook.  Now, one lucky winner will receive their own Support Local gift box with all of the same, uniquely YQG items in the box that Dan received.
How Can YOU Support Local?
Local Businesses
Update your business information in the DineYQG or ShopYQG directories (where applicable)
Share the program information with your customers, patrons and friends using the marketing toolkit below
Share your upcoming events with the Chamber via info@windsoressexchamber.org
Bank Local to Support Local
Presenting Sponsor, Libro Credit Union has extended the following offer to all participating retailers, restaurants and service providers AND their employees:
FREE business banking for 6 months for participating retailers, restaurants and service providers + A dedicated financial Coach who looks to help your business succeed
FREE (no fee) personal banking for 6 months for all employees of participating retailers, restaurants and service providers + A dedicated financial Coach who helps you achieve your financial prosperity
$50 Membership Shares - we will contribute to make you a Libro Owner!
*SPECIAL Support Local Offer*
Open an account with Libro Credit Union today and receive $100 to spend locally.  When you bank local, you support local.  Join Libro today to get personalized financial coaching to reach your goals.
Visit https://www.libro.ca/legal/loyal2local-campaign-terms-and-conditions to see offer details and conditions.
Windsor-Essex Residents & Visitors
Visit the DineYQG and ShopYQG to explore everything that the region has to offer
Shop online or in-person at local retailers, dine-in or take-out from area restaurants and choose local stores, artisans and makers when you are holiday shopping - shop local & ship global using Chamber Partner, UPS.
Use the hashtag #shipshopdineYQG to let everyone know that you are supporting local
Find the Support Local Team at these upcoming events:
Cans for a Cause with AM800:  Friday, December 3  |  Devonshire Mall  |  5AM - 8PM
Windsor Santa Claus Parade: Saturday, December 4  |  6PM
Town of Essex Santa Claus Parade:  Saturday, December 11  |  6:30PM
Interested in having the Support Local Team visit your business or event?  Contact us at info@windsoressexchamber.org to submit your request.
Support Local program partners will provide information and updates on AM800's The Shift with Patty Handysides every Tuesday at 3:25PM.  Tune in to stay up-to-date on Support Local initiatives.
Listen to past shows:
October 19, 2021                November 2, 2021
Local Business Support Services
St. Clair College Accounting Work Placements
The Ministry of Training, Colleges and Universities (MTCU) has implemented a new streamlined process for students enrolled in an approved Ontario college program that requires them to complete unpaid work placements. 
Dr. Zak Shaw, Program Coordinator for the accounting program in the Zekelman School of Business and IT at St. Clair College, is seeking unpaid work placements beginning in mid September and again in January. The College is looking to place these students in a business or non-profit organization for a one-day program over 13 weeks in the accounting field. Students will work for eight hours per week, in-person or online, on Wednesdays or Fridays. 
Employers can request more than one unpaid placement, and supervision is required. Student responsibilities can cover accounting work, including bank reconciliations, HST payments, tax filings, financial statements, and more. WSIB procedures must be followed.
To receive additional information, or to make a request for a student, please email Program Head, Dr. Zak Shaw, at: shussainshaw@stclaircollege.ca.
City of Windsor Training Modules
The City of Windsor has offered access to a number of their training modules from their Learning Management System.  Local businesses are encouraged to use these free modules to update their employee training programs and offer basic safety knowledge to their employees. 
Training Modules:
Thank-you to our generous sponsors & partners