Contact Caitlin Hildenbrand for information and advertising rates.
childenbrand@windsoressexchamber.org  |  519.966.3696 ext. 230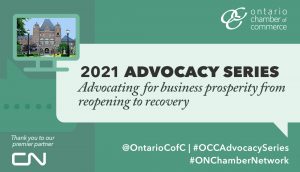 The Windsor-Essex Regional Chamber of Commerce (WERCC) and Ontario Chamber of Commerce (OCC) kicked off their 2021 Advocacy Series. The Network, which comprises leadership from 140 chambers of commerce and boards of trade from across the province, will be meeting with all four of Ontario's political leaders and one-on-one with key economic caucus members in March.