WEStaySafe COVID-19 RAPID TESTING PROGRAM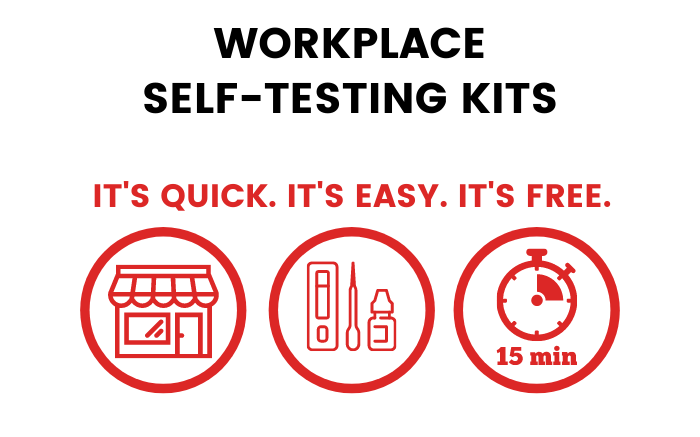 Keep your employees and our community safe with FREE Covid-19 Rapid Antigen Self Testing kits!
FREE for all businesses in Essex County with less than 150 employees!

Pick up kits (by appointment only) at the Windsor-Essex Chamber of Commerce office.

Asymptomatic employees test themselves twice per week.

Get results in 15 minutes!

Those who test positive or inconclusive must go for a lab-based PCR (polymerase chain reaction) test.
Why do this?
The latest information from Health Canada suggests that up to 1/3 of people carrying the virus are asymptomatic!  Over 50% of known cases were transmitted by an asymptomatic carrier.  This makes it incredibly important to find asymptomatic carriers in order to combat the spread and get to a more normalized community life.
A Covid-19 rapid screening test can be performed anywhere (i.e. at your workplace!) and does not require shipping a specimen to a lab for processing.  It takes approximately 15 minutes to see the results.  Frequent testing increases the chances of early identification of cases.
How does the Program work?
Small businesses select a representative from their company to be the "Screening Supervisor" responsible for the program.
They sign up for this free program at the WEStaySafe Scheduling Portal, complete the Program Agreement form, and book a 15 minute appointment for their Screening Supervisor to come to the Windsor-Essex Regional Chamber of Commerce office to receive training and pick up a two week supply of kits.
Employees administer the test themselves, with a gentle nasal swab, under the guidance of their Screening Supervisor.
Test results are ready in 15 minutes.
Anyone who tests presumed positive, or inconclusive, is directed to self-isolate and get a PCR (standard) test as soon as possible.
The Screening Supervisor reports the total number of tests completed, number of positive tests, number of negative tests, etc on the Windsor-Essex Chamber website.
Employees are generally tested twice per week.
Reorder your kits on our website as needed.
For your first visit you will be required to watch a short training video during your pick-up appointment.
Businesses over 150 employees - CLICK HERE to order directly from the Government of Ontario portal.
Step #1:  Complete the PASP Agreement
Print and complete this Agreement before your first pick-up. Bring it with you on your first pick-up or scan and upload it when you book your time.
Step #2:  Book your pickup appointment
Complete your booking information. Be sure to have your completed PASP agreement completed. Do not arrive earlier than your appointment time.
Step #3:  Complete the Prescreen Check
You can do this from our parking lot if you'd like. We have a QR code for your convenience on our signs. Enter the building only after completing this step.
Step#4:  Pick up your kits at the Windsor Chamber of Commerce office at your appointment time
#100 - 2565 Ouellette, Windsor, ON
WE'VE MOVED! Now located across from Tepperman's in the two-story building next to Suzi's Grill.
Step#5:  Report your results
Report Results Each Testing Day
No personal data is shared – we just need to report to the Province the total number of kits used, total positive tests, total negative tests.
Once you have used 75% of your last order, you can re-order kits
If your Screening Supervisor has changed, you need to complete a new PASP Agreement.
Print and complete a new agreement only if there has been a change.
What Businesses Are Saying About the Program
"Having the opportunity to utilize rapid tests in our business adds an extra piece of mind. In addition to proper hand sanitizing and mask wearing, we love knowing we are doing everything we can to keep our employees and customers safe."

- Allison Mistakidis, Whiskeyjack Boutique
Screening Tests Given Out