Call for Nominations – WERCC Board of Directors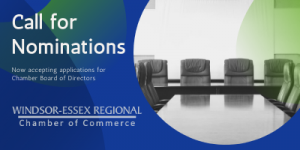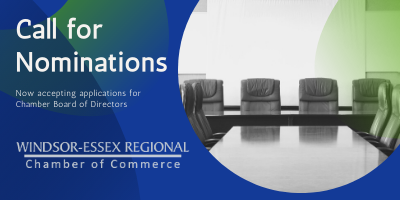 Now accepting applications for positions on the 2022 Board of Directors.
The Windsor-Essex Regional Chamber of Commerce (WERCC) invites applications of individuals from the Windsor-Essex business community for positions on its Board of Directors.
As the leading voice of business and professionals in our region for over 145 years, the Chamber supports policies that foster a positive business climate. A not-for-profit membership organization, the Chamber provides the leadership to achieve a diverse and balanced economy that enhances the quality of living and working in Windsor-Essex. The Chamber is a bridge that links businesses, organizations and residents together with innovative programs that strengthen the region's long-term economic vitality, business success, job creation and quality of life.
WERCC Mission Statement: "The mission of the Windsor-Essex Regional Chamber of Commerce is to be the key connector and advocate for the long-term business success of our Members."
WERCC Vision Statement: "The recognized champion of a thriving business community built on innovation and partnerships."
Desired qualifications to serve as a Director of the Chamber Board can include:
Support the Chamber and a sincere desire to assist in growing the membership by promoting the benefits of the organization to potential members;
Possess professional skills and expertise, which can be drawn upon as required in certain areas (e.g. financial, marketing, communications, policy, HR, governance, event planning);
Attend and support Chamber events;
Ability to fill a time commitment of approximately 6 Board meetings per year and participation on at least one working committee.
At this time, the Chamber is looking for candidates with knowledge, expertise or currently working in the any of the following industries / sectors:
Manufacturing / Automotive
Agri-Business
Transportation / Logistics
Small Business – Retail or Service-based
Healthcare
If you are passionate about the Windsor-Essex business community and have the experience to provide valuable input for guiding the organization, please forward your resume and completed application to childenbrand@windsoressexchamber.org. The WERCC invites representatives from all levels of chamber membership to apply to fill vacant positions.
Application deadline is Friday, April 15, 2022.
We thank all applicants for their interest in serving with the Windsor-Essex Regional Chamber of Commerce.
Please forward the application to qualified applicants who you think might be interested.