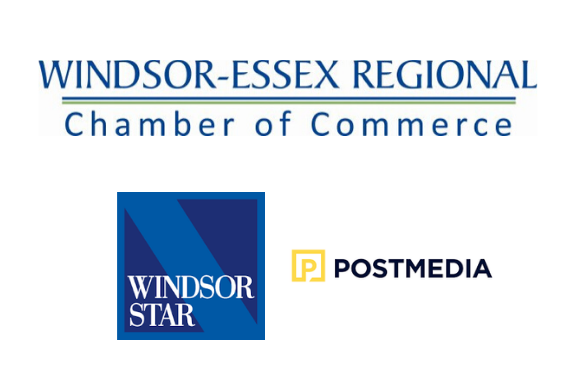 Chamber and Windsor Star Partner to Promote Digital Health and Chamber Members
(Windsor, ON) October 28, 2019—Windsor Essex Regional Chamber of Commerce and the Windsor Star are working together to provide Chamber members the opportunity to receive an extensive report on their digital foot print and an opportunity to receive a complimentary spotlight in the Windsor Star both print and online.
Members are invited to complete Postmedia's Digital Scorecard at postmediasolutions.com/digitalhealth to learn how their business performs online using 2000 different metrics to score their website, social media accounts and search strategy. Alongside the Scorecard members will receive a complimentary consultation to review the report and provide actionable insight.
"We are so proud to partner with the Windsor Essex Regional Chamber of Commerce and help provide its members with high quality analysis of their online presence as well as strategic solutions to suit members' individual needs." said Amanda Reid, Media Manager with Windsor Star, a division of Postmedia Network Inc.   "We are in a position to help grow business in Windsor and Essex County."
From the businesses that complete the scorecard, one will be chosen monthly for a member spotlight in the Windsor Star reaching over 207,000 readers in Windsor and Essex County. The member spotlight will also be featured on windorstar.com. A link can be found from the Star's homepage. The Chamber will select one additional business from its membership database for the monthly spotlight feature providing exposure to the Windsor Star's readership and social media followers.
"The Chamber is pleased to partner with Postmedia to offer the digital scorecard to our Members.  Digital presence has become extremely important for all businesses in order to grow and tap the global market." said Rakesh, President & CEO of the Windsor-Essex Regional Chamber of Commerce.  "The Digital Scorecard will provide a detailed assessment of the Member's digital presence and identify areas of improvements so as to enhance the effectiveness of their digital engagement."
This program was launched at the 2019 Windsor-Essex Tech Show on October 22, 2019 and is now available.
-30-
Contact:
Rakesh Naidu, President & CEO
Windsor-Essex Regional Chamber of Commerce
Phone: (519) 966-3696
Dalia Mazhar, Manager, Local Marketing
Postmedia Network Inc.
Phone: (519) 255-5508
About the Windsor Essex Regional Chamber of Commerce
 The Chamber is a community of businesses - large and small - working together to create regional economic prosperity in Windsor-Essex.
When you join the Chamber, you have greater opportunities to promote your business locally and regionally, form partnerships with other businesses in Windsor-Essex, and gain knowledge while you expand your business network at dozens of Chamber events.
The Mission of the Windsor-Essex Regional Chamber of Commerce is to contribute directly to our members' success.
About Postmedia Solutions
At Postmedia Solutions, our mission is to make big things happen for businesses of all sizes.
We aspire to build and maintain strong relationships with our customers by working collaboratively to design and execute engaging campaigns for print, web, smartphone and tablet; utilizing search, social, digital, print, audience and web development.
We blend media expertise with marketing intelligence. It's the perfect balance of creativity and science to propel brand awareness, conversions, engagement and loyalty.
With our quality content, measurable strategies and agile technologies, we help you build lasting, meaningful relationships with your audiences through efficiency and scale.