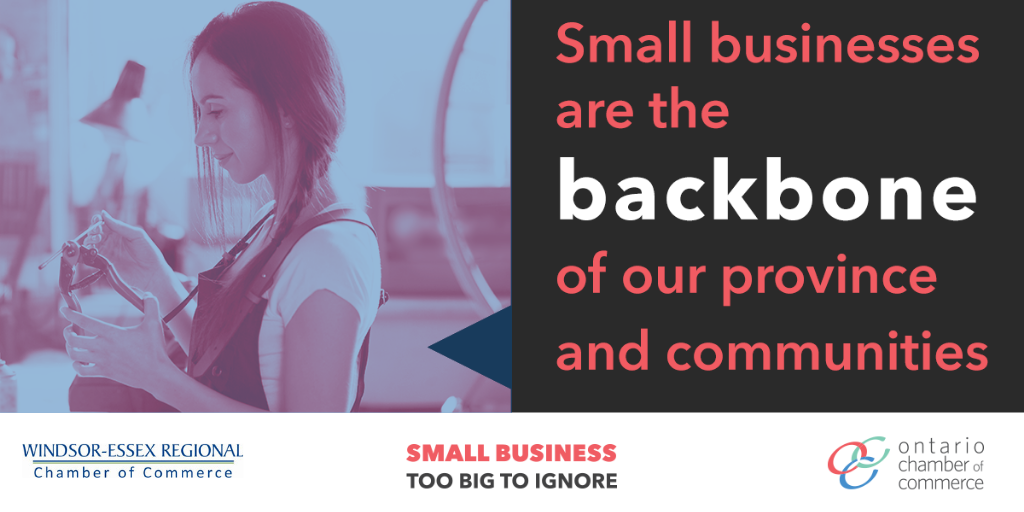 Chamber Network Highlights Importance of Small Business To Ontario Economy and Communities
(Windsor, ON, October 21, 2019) – Today, the Ontario Chamber of Commerce (OCC) and the Windsor-Essex Regional Chamber of Commerce launched Small Business Too Big to Ignore, a campaign taking place October 21 to 25, 2019 for Small Business Week highlighting the important contributions of small businesses to communities across the province.
"Small businesses of 100 or fewer employees are the core of our membership and employ nearly 3 million Ontarians, accounting for over two-thirds of all private sector workers. They are powerful economic drivers in local communities and across the province. That is why for Small Business Week, we're identifying the challenges small business owners face and celebrating everything they give back to our province," said Rocco Rossi, President and CEO of the Ontario Chamber of Commerce.
The OCC's report, Obstacles and Opportunities: The Importance of Small Business in Ontario, highlights the contributions of small businesses to the provincial economy, while also recognizing, and offering solutions to, the most pressing challenges that small business owners face.
The report identifies the top three obstacles for small businesses in Ontario:
Small businesses need access to talent;
Small businesses need government investment in infrastructure; and
Small businesses are concerned about the rising costs of doing business.
"Small businesses make up 98 per cent of all Ontario businesses and 30 per cent of the provincial GDP. They are the backbone – and core – of our community," said Rakesh Naidu, President and CEO of the Windsor-Essex Regional Chamber of Commerce. "Our new partnership with the Accelerator announced on Friday is just one way the Chamber is helping to support small business in our region. We also provide events specifically geared toward small business owners such as tomorrow's event –Tech Show: Tech Enabled. This event will have two panel discussions focused on technology tools and trends for small business owners. When small businesses tap into these tools they will become more efficient leading to a greater rate of success. The Chamber exists to support our members – and small businesses are the foundation of our membership base."
Resources:
For more information or to arrange an interview:
Rakesh Naidu, President and CEO
Windsor-Essex Regional Chamber of Commerce
519-966-3696 x222